Hotel Reception
Me: Hi, I think my partner Yohann left his passport at the reception desk, is that right?
Her: Sure, I can check. What was her name?
Me: Really?
I'm writing this because I'm concerned we are about to replicate the mistakes of the first two years of the Obama presidency, when many progressives felt either too tired or too disappointed to vigorously defend what they'd fought so hard for – and conservatives swept to power at the 2010 mid-term Congressional elections.

We are just over six months from an election, and it feels like a frightening majority of the Australian progressive movement isn't fighting to win, we're preparing to lose.

First, the good news. We haven't actually lost yet. In fact, John Howard came back from polls worse than this – twice – as Anne Summers recently pointed out. So let's quit acting like losers and drop the bitterness. As a friend says, no one wants to join the army of the glum.

I've recently been reading Van Jones' latest book, Rebuild the Dream, in which he talks about how the US progressive movement lost its mojo after Obama was elected, as well as where the political leadership in Washington missed key opportunities. Julia Gillard and Barack Obama are very different leaders. Yet the broader lessons feel remarkably apt.

I once had the privilege of knowing a wonderfully intelligent man who profoundly influenced my thinking as an undergraduate student. From him I learnt far more than I managed to take away from my formal studies.  A sharp thinker and marvellous teacher, he introduced me to my own intellect and gave me the confidence to use it.  It is this sublime experience that now shapes my own attitude towards teaching.
Unfortunately, we are no longer friends and we haven't spoken for a long time.  But earlier this month I was reminded of him and the sorrow that burdens him.  It was this article that did it, along with this infinitely more credible Four Corners episode*.
He was one of 150,000 new born babies that were forced into adoption here in Australia throughout the '50s, '60s and '70s. As a child born to an unmarried woman, Mark (the name originally given to him by his mother) fell victim to an unsympathetic society and the pernicious attitudes of religious organisations that deemed it inappropriate for him to be raised in such 'unfit' circumstances.  Of course today most of us find such an idea as not only ridiculous but, if you follow its logic, cruel.
Despite meeting his biological father a couple of years ago, his mother remains unknown to him.  It was, in fact, over this wound that we first became friends, after all, we had almost identical scars, although mine was a little smaller.
Undoubtedly, the coinciding trauma of being separated from his mother is comparable to that inflicted upon the members of the Stolen Generation, a kind of pain that, through my work and family experiences, I'm all too familiar with.  Taken from his mother and stripped of his identity, Mark has had to grapple with an indescribable grief since childhood.  Yet he has done it with the utmost grace and stoicism.  He, along with the 150,000 others like him, deserves an apology.
Thankfully he'll get it. Julia Gillard and the Federal Government, acting on senate committee recommendations (chaired by WA Greens Senator, Rachel Siewert), will apologise to those impacted by past adoption practices on March 21, 2013.  I suppose that I'll be watching along in tears, as I did during that other national apology of February 13, 2008.  I just hope that along with this there is a commitment to providing greater funding, access and affordability to counselling services like ARCS here in Perth, that help these victims negotiate their fear and grief.
I write this, I think, out of selfishness and/or guilt regarding our falling out.  Nevertheless, I want to convey that I think that saying sorry isn't necessarily about guilt.  It is, in my humble opinion, a recognition that life is shit sometimes.  Therefore, because we are all, in one way or another, a part of each other's lives, and apologising for said shitness isn't such a hard thing to do, we shouldn't be so reluctant or fearful of doing it. We never say, 'oh you're mother died, I won't say sorry because I didn't kill her', we say sorry because we feel, or at least should feel empathy for one another's grief.    
Anyway, looking back on 2012, in what has been the best year of my life (no joke!), one of my regrets will be losing this person - I miss being friends with him.  But if I could wish anything for the coming new year, it would be that he finds what he is looking for. 
Happy New Year.
*If you don't have time to watch the episode in its entirety, please, please, please, just watch the first 40 seconds.
1. Australians don't know the first thing about a barbecue.
Unless your BBQ looks like this, you're doing it wrong. And the best cut of meat I've ever had was a chunk of buffalo from the Ilha de Marajó. Lamb on the BBQ ain't got shit.
2. I really, really, like Oscar Niemeyer.
Never have I experienced architecture in the way I did Niemeyer's.  Brasília, his most enduring vision, remains a choreographed dance of architecture that balances monumentality with elegance and power with freedom.  Having lived in the shadow of his imagination, I shared in the national grief surrounding his passing. His work spans over 70 years and still remains deeply influential.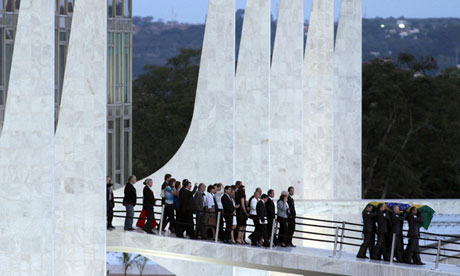 3. I was oblivious to my own social conservatism regarding sex, drugs etc…
There is an openness towards sex and sexuality that, in my experience, just doesn't exist here in Australia. Sex doesn't need to be complicated, screw the rules - so to speak. The fact that I've managed to learn this in one of the world's most Catholic nations is pretty telling.  Another thing, despite the ready availability of all kinds of drugs in Brasil and South America, our deeply entrenched fixation with alcohol is, with perspective, easily the most concerning thing I've seen.  'Glassing' anyone?
4. Monolingualism is just plain embarrassing.
The very fact that we as a nation don't value scholarship in languages is embarrassing.  Having friends who all speak English better than many native speakers serves as quite a reality check.  I'm only able to know how wonderful my Brazilian/Argentinian friends are because they were able and willing to speak with me in a language that is foreign to them - for this I'll always be grateful. I cannot begin to imagine the energy and patience it takes to forge a relationship in a language that isn't your own. The fact that I couldn't express all of this in Portuguese or Spanish or any language that isn't English bothers me.
5. There is such a thing as a healthy form of patriotism.
I am undoubtedly a product of a leftist tradition in academic circles that only comprehends patriotism in derisive terms.  I still argue that in an Australian context, such an analysis remains valid.  However, in a nation which has managed to forge a national identity that synthesises the legacies of Indigeneity, European colonisation and slavery into a coherent narrative is worthy of admiration.  There's a maturity that we just are yet capable of here in Australia.  Patriotism here is more often than not exclusive and all about waving Australian flags, bashing 'darkies' and telling Aboriginal people to 'get over it'. On Brazil's flag it reads 'order and progress', it was once proposed that it additionally read '…and above all else, love'.  Take a look at the national anthem it's all about love, oh and turns out the southern cross isn't unique to us…who would've thought?  Yes, I'm talking to you bogan tattoo types. Also, their flag is the best (national) flag in the world.
6. 'Saudade' is the most wonderful word in any language.
From Wikipedia: a unique Portuguese word that has no immediate translation in English. Saudade describes a deep emotional state of nostalgic longing for an absent something or someone that one loves. It often carries a repressed knowledge that the object of longing will never return. It's related to the feelings of longing, yearning. A stronger form of saudade may be felt towards people and things whose whereabouts are unknown, such as a lost lover, or a family member who has gone missing.
7. I can never be too far away from the ocean.
I nearly cried seeing the beach in Rio after what had been the first time in months.  I have, for various reasons, a deep connection with the ocean and living in Brasilia I've realised that an artificial lake just doesn't cut it.

8. 'Life by numbers' isn't for me.
Meet someone > move in with them > build a house > get engaged > get married > have children.
Yep, can't do this. I think it suits some people, just not me. I think being gay helps a lot in this respect.  Kids are tricky, marriage illegal - the upside to discrimination?
9. Hipsters don't sing 'Happy Birthday'.

10. In matters of the heart, tell your head to shut up.
Such a beautiful photograph from Oliver, an All Out member in France.

He reached out to us to add his family to our album for equality events happening in over 16 cities all across the country. Now this is what a family looks like.

Take action for marriage equality in France here and en Français here.
This is how I spend my time when I'm bored of my thesis.  Can this be considered 'trolling'? 
Anyway, I'm not going to carry on about this.  It's been done to death. 
Instead, what I am going to discuss is the place of politics in personal relationships, mainly because it has bothered me for years.
Friends and Politics: stripping off and hugging a cactus.
For the record, I vote Greens/ALP Left…
I've never found it impolite to discuss politics. I remember my grandmother chastising me once for asking a family friend which party she voted for in the 1996 election. I might as well have asked the woman to tear off her clothes, spin around three times, stand on her head and hug a cactus.  
I always found this sort of reaction absurd.
Of course, I was only 9 years old but even then I found politics interesting.  I knew to like Paul Keating and loathe John Howard.  I enjoyed teasing my grandmother about John Howard being her secret boyfriend.  
Also, politics popped up in the strangest of places.  For example, my grandfather always had, and I think still has, union bumper stickers on our Sulo bins - no better place to exhibit your political allegiances, really. I used to notice them because when I was little I'd drive my yellow jeep (with matching trailer) past the bins to get to my imaginary petrol station. Thankfully, in my imaginary playland, petrol prices stayed reasonably low.  And if they didn't, I would've known, even then, to blame John Howard for the introduction of the GST (yes, I still played in my little jeep up to the age of 13, so what, you would've too).
As I got older, I enjoyed more and more, paying attention to, and talking about, politics.  University was like a political orgasm for me.  People actually talked about this stuff! In public! There were actually people who liked John Howard! They existed.  Before then they were like the Tasmanian Tiger to me, rumoured to exist, but probably extinct. Plus I was always told that only rich people voted Liberal.
Anyway, over time I began to understand precisely why it was deemed somewhat unacceptable to talk politics, especially with friends.  I was at a mate's house for dinner during the 2004 election campaign.  Mark Latham, at that time, wasn't a complete train-wreck and looked to have a fairly decent chance of toppling Howard.  I mentioned over casserole that it would be good to see the back of ol' Howard, expecting at least a few nods in agreement.  However, it was met with a awkward deathly silence.  
Despite my inner-Keating telling me to runaway and return to deliver a Redfernesque speech explaining to them why they were wrong to vote LNP, I didn't.  I had to accept that I was friends with a conservative voter and was always going to be (the horror).  Our friendship, after all, wasn't founded on a mutual admiration for social democracy or an appreciation for political reform, but rather a love of sports and Dragonball Z and later, The OC: Marissa and Ryan (well mainly Ryan, but they weren't to know then).  
Of course, I'd never end a friendship with someone simply because of their political views, but I will force them, from time to time, to explain themselves - I would expect and enjoy the same in return.
They should be able to explain why they'd choose to vote for a party led by a man who is "threatened" by gay people and won't let them marry. A man and a party who rejects the scientific consensus on climate change.  A party led by a man who believes a woman's place is behind the ironing board and that abortion is an abomination.  A man who's the sort of guy that says to his daughters 'your virginity is the greatest gift you could give someone' (what the hell, who says that?!). For goodness sake, he's a man who puffs on a joint but doesn't inhale!
All these are things, look 'em up.
So, I suppose I'm going to continue being that annoying friend who potentially ruins a barbecue by talking politics, because these things are important to me.  I also think it's outrageous that people can get away with saying things like 'blow up the boats' publicly and they get away with it, with not even one dissenting opinion.
If you vote Liberal, fine.  But I'll always ask you, as a friend, to explain why.  I think we should let go of this idea that politics is impolite conversation and readopt the attitude we would have had when we were young and ask people to strip off, spin around three times, stand on their heads and hug a cactus.  Ask me, I'll go first.